Ted's Woodworking Plans Review—
         I Really Wanted to Like This, BUT…
Ted's Woodworking Plans has been available as a Digital Product on the Internet for at least five years. If you do your own search you will find a lot of different views from "this is the greatest" to "this is the worst woodworking scam ever".
My review falls closer to worst ever, but the collection does have some very limited benefit.
Why Ted's Woodworking Plans Could be Useful
First, I think it's very important to identify exactly why this can be a useful product.
For a beginning woodworker access to a lot of different quality woodworking plans can be very helpful.
It helps you visualize possibilities and give you a more clear idea of what you might want to make for yourself.
Looking through a lot of different plans of different types can I help you understand how projects are put together, and give you design ideas.
Seeing a wide variety of project plans can give you a more clear understanding of what a good plan looks like and what a poor plan looks like.
Searching for Good Woodworking Plans is Frustrating!
In my search for woodworking plans, I have been very frustrated by the "Free" plans available through dozens of different websites.
In order to get anything free on the Internet, you always have to give up your email address and be added to yet another mailing list in order to get one free woodworking plan.
On many other websites, you will find the free plans they offer will only lead you back to the Ted's Woodworking Plans website, or one of the similar spin-off products that copied Ted's plans.
Other frustrations I have encountered have been finding what appears to be a reputable website, but in order to even look at an example of woodworking plan, you have to purchase $40 or $100 per year membership. Some of these memberships only allow you to download 2 to 4 woodworking plans per year!
Searching for plans has cost me many wasted hours of time that I would rather have used building something.
Please keep reading now as I tell you all about my purchase of Ted's Woodworking Plans.
Once you make your purchase from Ted's woodworking plans, you'll receive an e-mail from Clickbank that has a nice big green button that will take you to your Ted's Woodworking Digital Product.
Just to be clear Ted's woodworking plans, are sold in a digital format. You download them onto your computer and then you can open them and print them as you need.
Helpful Hint: Almost all "one time offers" on the Internet that say "this is your last chance" are not telling you the truth. They want to sell you stuff, and Ted's Woodworking is no different. The upgrade offers you will get at first will be offered later for a much bigger discount, so please be aware!
When you are purchasing Ted's Woodworking plans they have a very exuberant sales page. There is a lot of information offered with these additional purchase options But…I will talk about that a bit later. For this review though I only purchased the basic 16,000 Woodworking Plans offer with the associated Bonus Materials. When you get to the membership page you will get an opportunity to buy the upgrades again, with the same "one time only" offer you saw before.
All of the digital products are available for download, and you can also purchase a one or two DVD set (Upgrade Edition) to have it mailed to you if you want to have a copy in that format.
Ted's Plans is a "Hot Mess"
Here's what you get:
Ted's Woodworking Plans is a compilation of woodworking plans gathered from a whole bunch of different sources.
Many of the plans appear to have been scanned from old out-of-print woodworking books from the 50s and 60s.
Some of the plans are high quality and well laid out and understandable.
Some of the plans appear to be Assembly instructions from boxed furniture.
I am not totally convinced that there are 16,000 plans included.
There are three large files called "Woodworking plans 1", "Woodworking plans 2" and the "Big Book of Woodworking plans". Within "Woodworking plans 2" and the "Big Book of Woodworking plans" there were fewer than 1000 woodworking plans.
Ted didn't write everything you get. In fact, I doubt Ted wrote anything at all other than the advertisement!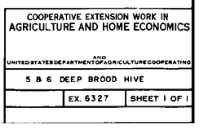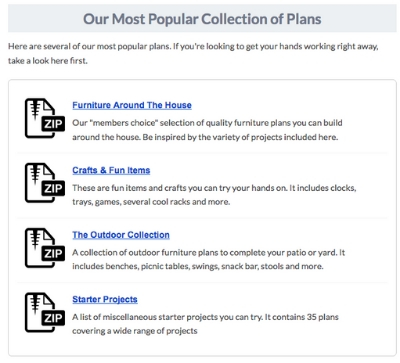 I only looked at a couple hundred of the plans and this is what I found.
No consistent form or organization to these plans.
The only similar form is in cases where the plans were copied from the same source.
Many of the plans come from old magazines or outdated woodworking books.
Many are compiled from the Dept. of Agriculture and other free sources and scanned into a .pdf file.

Images of tools and methods appear to be from around 1960.

Many of the same images appear on multiple different plans and are not helpful.
When printed the original image quality is so poor it is completely useless.
Plans are grouped by basic theme in some cases, and in others, they are loaded into a large .pdf file and then you have to open yet another .pdf file that has the index so you can know where to go back and find a plan in the first .pdf.
Is that Confusing? ...Yes!
And it is aggravating because .pdf's can be created with an index that links to different locations within the same document.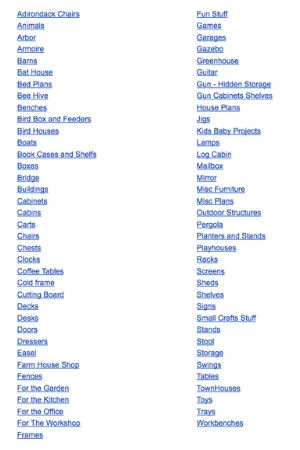 Clearly, Ted didn't think to take the time to help his customers in this way.
Another problem here is the table of contents has no photos in it so you can't be sure what the project looks like.
The index has very generic titles like "bookcase" so:
You won't know what it looks like until you take time to open the other file and find it.
The download page does give you instructions for using the Control F and Command F search functions on Mac and PC computers.
Doesn't help much since you will need to know exactly what you are looking for...without knowing what it is called.
These downloadable articles are very brief and poorly written. They give just a very basic level of understanding. Again, I don't believe Ted wrote any of this himself (I truly believe Ted is a fictitious character) all the articles read as if they were copied from another source and put into a computerized word spinner to hide the fact that it was copied from another source. Some of it is US Dept. of Labor Safety info. Others are very brief and only slightly useful articles with images that will give you a basic understanding of what they are talking about.
Ted's Videos--Nothing original here!
Ted's woodworking videos that are one of the Bonus Features are not original work of his but are just links to YouTube videos produced by other woodworking websites on the Internet.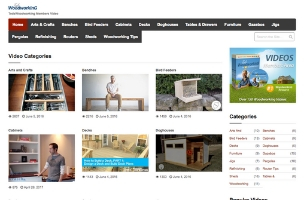 Final Conclusion & Wrap-up
What I look for in woodworking plans for beginners & how Ted's measures up.
1.   Easy to read with understandable pictures: Nope! The vast majority of the plans are hard to read have poor images and are scanned from old books and magazines.
2.    Materials list that doesn't assume you already have anything: Nope! Some have it most don't. There is no way to know if the project you want to build will have good or bad plans.
3.    Tools needed/required list: Nope! Some do list tools, but most require a careful reading of the plans to determine what is required.
4.    Step by step directions for assembly: Most plans I viewed did have a step by step flow, but they did not have quality photos or images that made the steps make sense. There are a few good plans in the collection, but there is no way of knowing if the project you want to make has a good quality plan to go with it.
5.    Skill level clearly stated: Nope! There are a very very few titles that will help you know the skill level and that only based on keywords like "Simple Window Box Planter" usually you will have to search the project, open the pdf and read all of the directions to make that determination yourself.
So there you have it, Ted's woodworking plans are definitely not what they claim to be, and are certainly not user-friendly.
If your goal is only to have a large resource of plans to give you ideas then perhaps this product could be useful.
Is Ted's Guarantee for Real?
Ted offers a 60 day no questions asked guarantee. Here's a quote from the Ted's Woodworking FAQ's:
"When you place your order with us, you will connect to ClickBank through a secure server, which makes it virtually impossible for a hacker to intercept your information.
And the 60-day money back guarantee is my personal promise to you. If you don't like it for any reason, just drop me an email and I will refund you the full amount within 48 hours or less.
There will be no questions, no fine print, no B.S"
I requested a refund on Friday, Nov 9th. Ted's customer service responded on Nov 10th with an offer to send me the 2 DVD's for Free instead of the Refund.
I Replied on Nov 12th that I just wanted a refund.
The refund was processed by Nov. 14.
Contrary to many internet reviews, Ted's Woodworking Plans is NOT a scam (defined as they take your money, you get nothing and can't get a refund).
I do think Ted's Plans are a poor value and that all plans are not of the quality that is declared in their advertisement.
I found Ted's customer service to be very good and exactly as advertised, with the exception that they made the Free DVD offer before giving me the refund information.
The email they sent after my refund request included helpful step-by-step instructions on how to get the refund through Clickbank (the platform this digital product is sold on).
If you want to check out Ted's Woodworking plans for yourself I can say with confidence that you can click this link  and make the purchase without being "scammed".
Clickbank is a very reputable marketplace for digital products and it is in their best interest to make sure all their vendors (like Ted's Woodworking) live up to their guarantees.
This was a fun review to write and I hope you found value in it. Watch for my next post where I review some excellent woodworking plans for beginners!
Please do leave me a comment if you have any experience with the product yourself, or just want to say hi!
Cheers!
Greg