Best Woodshop Vacuum Systems
In my last post, we looked at the Beginner Woodworking Tool List. Every tool, except for the shop vacuum, is going to make some kind of dust that you need to clean. Maintaining a healthy woodshop environment might be the best first step in evaluating which tools you purchase.
As you get started woodworking, you are confronted with a lot of tool choices. Choosing tools designed for connecting with a dust collection system keeps your shop and the air you breathe cleaner.
Buying a dust collector is rarely a consideration for beginning woodworkers. A couple of reasons exist for this.
First, sucking up dust doesn't look anything like creating something from wood.

Second, most of us would opt to buy other tools for cutting and shaping wood rather than a tool for cleaning. Please stick with me, though, and I think you will find this useful.
In this post, we will look at the need for a woodshop vacuum system and different types to consider before you purchase one.
Since this website is focusing on people just getting started in woodworking, I have not included any sizeable industrial-strength dust collection systems.
What about "dust extraction" systems, you ask? Keep reading so you can spend less money. I'll save my dust extractor review for another time.
To keep the focus on those who are just getting started, I'll stay with the more standard wet-dry shop vacuum. These versatile vacuums are powerful. They can also be upgraded with dust collection attachments, HEPA filters and come in at half the price of a "dust extraction system."
Is Wood Dust Bad For You?
Wood Dust Is More Than A Health Hazard
Working in the shop with the floor covered in sawdust and woodchips is dangerous too. Tripping over piles of wood debris, slipping on sawdust and shavings, stepping on screws and nails lost in the clutter are all hazards that exist in a dirty shop. Delaying cleanup is also a fire hazard. Piles of dry wood shavings make excellent tinder, and a stray spark can easily cause a fire.
Making a mess while woodworking is easy, but few of us enjoy cleaning up afterward. A dust collection system continuously cleans as you use it, giving you a lot more time to spend working on your projects and less time cleaning up.
Removing dust from your environment as you make it is the most effective and efficient way to deal with wood dust. If your shop doesn't get dirty, then you don't have to clean it!
Should I wear a dust mask if I have a dust collector?
Yes, even though tool companies are making more tools with dust collection ports, they still do not remove 100% of the fine particulate dust. Wearing your respirator or dust mask is still very important. If you are prone to allergies or have asthma or any other breathing issues, it becomes vital to take safety precautions.
Types Of Dust Collection Systems
Single-Stage Dust Collectors
A small woodshop that doesn't create a large amount of dust will likely be fine with a single stage unit. A single-stage dust collector is usually portable and consists of an electric motor and fan that draws air through intake ports. Dust and debris fall into the canister and dust collection bag, and the air returns to your shop through the filtration system.
With newer filters in use today, single-stage units can trap dust down to 2 microns. For more filtering capability, you will need a two-stage dust collector.
Two-Stage Dust Collectors
In a two-stage dust collector, the dust and air enter through an intake port and encounter a cyclone dust collection drum for stage one. The wood and dust particles spin around the cone-shaped drum then drop into a collection bag or bin.
In stage two, the now cleaner air moves to the filtration system, which removes more fine dust particles before releasing the air back into your shop. 
Two-stage dust collectors cost a little more than single-stage but are much more efficient and effective at keeping your shop environment clean and healthy.
Best Woodworking Vacuum Systems
Vacmaster Professional Wet/Dry Vac, 16 Gallon, Beast Series
Vacmaster makes the top of my list with this high airflow wet-dry vacuum. The company makes several other models, of course. Still, this one wins because of its airflow and detachable blower, which generates an impressive 240 mph stream of air.
The key to removing dust is airflow, and at 150 cubic feet per minute (CFM), this machine does it. A 16-gallon tank with a significant drain port makes wet cleanups and emptying nasty fluids from your tank efficient. 
A 20-foot cord powers the 6.5 hp motor and, combined with the 7-foot hose, allows an excellent long cleaning reach without unplugging. A standard assortment of accessories fit in the unit base.
Be sure, as with any power tools, not to overload a single outlet as some people have blown circuit breakers using this powerful vacuum.
One rare feature is noise-reducing muffler that makes this quieter than many competitors, all though this feature can cause a reduction in airflow. If you experience reduced performance, just remove the muffler. Finally, this machine has a well designed integrated storage for the hose.
The Vacmaster Pro is a great first choice for your woodshop or construction site where no-nonsense cleanup is required. 
Vacmaster, VBV1210, 12 Gallon 5 Peak HP Wet/Dry Shop Vacuum with Detachable Blower
Vacmaster has been winning my heart with its smart design and sheer power. This vacuum features a unique detachable blower, which I find super helpful for a zillion different tasks around my home from blowing leaves to filling air mattresses.
A 12-foot cord powers this five hp motor moving 133 CFM (cubic feet of air per minute). Connect this to any of your Power tools with dust extraction ports and be amazed at how little you need to clean up later. The 12-foot cord limits the cleaning reach, and the slightly lower CFM rating is why this machine is in second place. 
The accessory pack is exceptional! Vacmaster did excellent work, realizing people want accessories that they can use inside their car. Included is an 8 inch Car Nozzle, Crevice Tool, Utility and Blower Nozzles, and Noise and Air Diffuser Adapter for the Blower Wand. 
The large drain port on the bottom means you will never have to lift the machine to empty it. The casters are a little smaller than I like and can tend to get stuck on cracks in the concrete floor or hang up on small debris. However, with the power the vacuum offers, you should be able to keep the floor of your shop clean and the vacuum rolling smoothly.
DeWALT 10 gal. Poly Wet/Dry Vac
Reading my blog, you will know that I like DeWalt tools a lot. Coming in third place is this 10-gallon wet dry vacuum. I prefer the 10-gallon model to the 9-gallon as it has the 20-foot cord powering its 5.5 hp motor. It moves 90 CFM of air, which is still plenty of power for your home workshop or construction applications.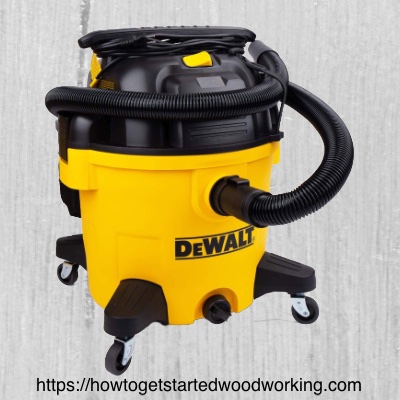 The large on/off switch makes operation simple with gloved hands, and the vacuums larger casters roll smoothly when moving around the shop. 
A standard assortment of accessories are stored in a removable accessory bag and include Utility and Floor Nozzles, and Crevice Tool. Also included are a disposable dust bag, and a washable filter cartridge. A unique feature is a rubber strap that holds the flexible hose in place while in storage.
The large drain port on the bottom makes wet messes drain fast. A rear exhaust port converts this vacuum into a reasonable blower to remove leaves or other debris.
Vacmaster Pro
VJH1612PF0201
Vacmaster w/ Blower
VBV1210
Add-ons That Make Your Vacuum a Super Dust Collector
The Dust Deputy Deluxe Anti-Static Cyclone Separator 5 Gal Kit
Add the Dust Deputy to your shop vac, and you automatically trap 99% of dust and wood chips before they get to your vacuum filter! This little gem keeps your shop vac filters from clogging quickly. The cyclonic dust-trap helps you maintain airflow, which is so critical to removing dust and keeping your shop environment clean and healthy.
It is good to note that any time you add length or restriction to your vacuum system, you will effectively reduce the amount of airflow. These are simple laws of physics at play and not something to cause worry. Instead, make sure you purchase a shop vac with the highest CFM rating you can, such as the ones listed above, and you will be quite happy.
Shop Vacuum and Power Tool Adapter Hose and Fittings
In our world of tools with no standard size dust ports, the need for hose fittings and adapters of various sizes is essential. This kit gives you what you need when you need it, connecting to a variety of different tools. The package includes a ten-foot-long 1 3/16" Outer Diameter flexible hose, one flexible small screw-on rubber fitting, and one flexible large screw-on rubber fitting. It also contains one plugin shop vacuum adapter that will allow you to connect the hose to most shop vacuum cleaners.
Be sure to measure the Inner Diameter (ID) and Outer Diameter (OD) of your vacuum and power tool ports. Measuring in advance will ensure the fittings will work with your equipment. There are other vacuum hose adapters on the market too, so it may take a little more searching if this one isn't right for you.
Many of the top wet-dry vacuum manufacturers offer an extended assortment of HEPA filters that can be added to your vacuum and increase the filtering capability to .3 microns. Be sure to double check that the filter is compatible with your model of vacuum.

When all of you're shop vacuum add-ons are assembled, you will have a handy dust collection system for less than $300.
Maintaining safety and good health is the priority when getting started in woodworking. There is no way to ignore the fact that breathing dust is harmful to you, so starting properly and minimizing your risks is of vital importance. Doing this planning now will give you many more healthy years of woodworking enjoyment.
Knowing that dust collection is so critical, use this knowledge in the selection of your tools. Be sure to choose tools that have a dust collection port. Almost every manufacturer has a line of tools with dust collection ports built-in. Of course, there are degrees of quality and effectiveness with each tool brand, so be sure to subscribe to my newsletter and receive all my reviews on different portable electric hand tools.
Choosing a woodshop vacuum system should be pretty easy now. With my wet-dry shop vacuum review above, you can assemble an effective system quickly and without too much cost.
No one is going to argue with the fact that dust capturing is best done right at the source. With the shop vacuums and add-on equipment mentioned in this article, you can easily keep the air clean in your shop.
As always, I would like to hear from you. If you have followed my recommendations, I'd like to know how you're doing!
Be sure to leave questions or comments below, and I will answer you as soon as possible, usually within 24 hours.